A number of ransomware attacks, in particular, RYUK ransomware targeting healthcare institutions have caused the healthcare industry across North America to be on high alert. 
Ransomware attacks can have devastating effects on businesses and organizations. Not only can they paralyze organizations from running as usual, but they can also compromise highly confidential records that can cause a negative ripple effect, potentially taking years and millions of dollars to recover from. 
Proactively staying on top of these attacks is crucial. By taking preventative measures, an added level of security is in place in the event of an attack. It also ensures that if a ransomware attack is already present, the organization is able to pinpoint its location and remove it swiftly, ensuring that there is a quick and efficient recovery with little to no downtime. 
At Indusflow Systems, we prioritize keeping our customer networks and computers safe from these threats. The many security systems we have in place include:
+ Backups – Our backup systems are backing up our customers' data on a daily basis. If there are on-premises servers, then we are backing them up to both cloud and on-site destinations. These backups are verified on a daily basis and any issues remediated. For those who have data on the cloud (example, Office 365), we back data up to another cloud provider so that it is protected in more than one place.
+ Patch Management – Operating systems and software that are not updated with the latest patches, create security holes which malware and hackers can exploit. We maintain and deploy security updates from Microsoft and other vendors such as Adobe, Java, etc., on a regular basis. These are scheduled weekly and monitored by our highly skilled Network Operations Centre (NOC) team.
+ Internet Security – Having a firewall with a current security subscription is essential to protecting your network against internet-born threats. Our Systems Administrators manage rules and policies on customer firewalls in order to ensure maximum security without compromising workflow and ease of use.
+ User Education – As a part of our TechCare offering, we run periodic Lunch 'n Learn seminars for our users in order to educate them about cybersecurity and other technology-related topics at no additional cost. This proactive approach ensures that all users are equipped with the knowledge to take additional security measures in protecting both themselves and the organization.
+ Email Protection – Having an email security provider is essential for protecting email accounts against the type of malware that spreads ransomware viruses. A majority of these infections arrive via email.
+ Endpoint Security – We monitor and manage the health status of antivirus software on all your computers and servers. 
This multi-level approach is carefully designed to provide customers with strong and effective security for their IT systems. There is always more than can be done. Performing periodic risk and threat analysis is the next frontier in network security. At Indusflow Systems, we have the ability to run periodic scans and generate risk intelligence reports. These scans can be tailored to an organization's priorities, depending on the industry's regulatory frameworks (if applicable). Scans include: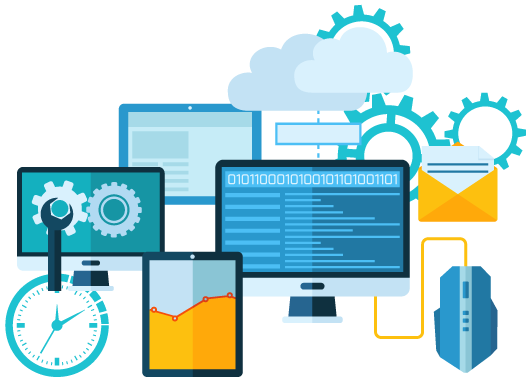 Vulnerability Scanning

Payment Data Discovery – used for PCI DSS compliance

Permissions Discovery – Scans for inappropriate security permissions

Risk Intelligence – Credit card data discovery, vulnerability trends, data breach risks

PII and PHID Discovery – These scans search for Personally Identifiable Information and Protected Health Information that might be stored on your computers
Getting ahead of security threats seeking to immobilize your organization helps prevent the devastating destruction it brings. Prioritize your peace of mind by ensuring you are one step ahead. For more information on how we can help secure your organization from viable security threats, call us today at 1-888-940-0751.
Contact us today for a free consultation!