As your business grows, you'll need knowledgeable experts to manage your expanding software ecosystem. Unfortunately, having too many consultants making changes to a highly-integrated system can make change management tricky.
Every day in the business world, we see IT departments experience an array of problems, whether it's outages, data losses, or security breaches or human error.
According to DataCore, 19% of IT outages within companies are due to human error. If a business's environment is growing, with multiple software vendors accessing your servers, things can get very confusing, very fast.
How do we better coordinate multiple consultants and make sure mistakes don't happen?
Organizations will often hire individual business software firms to implement a variety of integrated software applications such as ERP, CRM, EDI, e-Commerce and others to run their business operations. With each software vendor comes an individual consultant, and before you know it, several independent consultants have access to the company's main server. The business may also have a managed IT services provider (MSP) to manage the IT infrastructure, and to provide 24/7 support.
For example, if a module is upgraded in a company's ERP system, it may break the integration with other applications such as EDI and CRM. Another example is if Microsoft releases a security update to their operating system, this update may not be compatible with existing software applications.
Regardless of the cause, a break in the integration will cause some serious chaos in the business. Now orders are not coming in from customers and salespeople, and the entire day's sales may be in jeopardy. This is of particular importance to high-volume businesses such as distributors and manufacturers. If communication and coordination among consultants and with the MSP is poor, it may take time to pinpoint the cause, with various vendors not taking ownership over the situation, leading to finger-pointing between various stakeholders. Although each consultant understands their individual application well, they may not understand dependencies with other applications nor understand the overall server infrastructure architecture.
"However, many MSPs are experts at managing IT infrastructure but may find it difficult to manage complexity at the application level", says Amer Mustafa, Vice President and Head of IT Services at Indusflow Systems. "Many MSPs don't consider business software as their responsibility".
How can you ensure that you are managing application complexity as your business grows?
Here are the two best ways to get around this:
1. Hire a Software-Savvy IT Manager
As your business becomes more complex, you may need to hire an internal champion of your application environment. This can be an IT Manager or a Director of Applications role whose job it is to understand and manage flow of data through various applications and understand the interrelationships between them. This person would ensure that software projects or changes happen through a disciplined process. Their responsibility is to oversee the seamless integration of your infrastructure, applications, and business requirements.
Having someone in charge is a big step in reducing the chaos, confusion, or finger-pointing that is likely to occur without that kind of leadership.
2. Hire an MSP That Knows About Software
In the event that your business does not have the right type of IT leadership, then seriously consider hiring the right type of MSP to manage not just your IT infrastructure, but also to provide oversight over and coordination of application software deployments and updates..
Most MSPs only deal with IT infrastructure, and don't have a lot of expertise in business software. Some IT services firms however provide both software and infrastructure services, and they may be a better alternative. For example, our firm has grown by helping our customers implement end-to-end integrated business software (in our case Sage), as well as providing full management of customer networks. An MSP with this dual IT and software focus will serve your needs better if you don't have in-house expertise.
So make sure you ask your MSP to provide services to better coordinate vendors on your server. The MSP should provide you all the support you need, usually for a monthly flat fee.
Bottom line?
Make sure you protect your business in case of server-related chaos. Having the right type of IT leadership by your side will be critical to the success of your IT environment and strategy. You'll be glad you did it.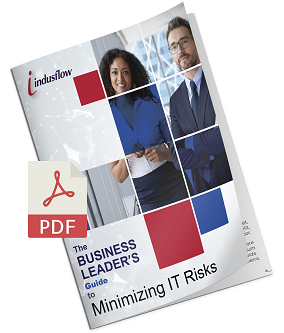 Free Resource
The Business Leader's Guide to
Minimizing IT Risks
This definitive guide breaks down the essential elements of a well-managed IT environment. You will be equipped with the right questions to ask your IT provider.