IT Support for Lawyers, Human Resources, Healthcare, Finance and Insurance
IT Support for Lawyers, Human Resources, Healthcare, Finance and Insurance
Your Success as a Professional Services Firm
As an owner or director of a professional services firm, you provide specialized services or advice to clients that look to you as their trusted partner. Your superpower comes from your knowledge, authority and expertise in meeting your clients' goals in the best possible way. Your credibility, and hence brand strength, comes from your ability to deliver on your commitments better than your competitors. You understand human beings – both your internal teams and your customers. The customer experience is king.
Information Technology Services for Professional Services Firms
Many small and ambitious professional services firms lack the resources to build their own technology team. Yet, technology is a key enabler of your firm's success.
A partnership with a committed managed IT services provider (MSP) is critical to give you the freedom to focus your time and attention on your organization's core mission. Instead of fighting with multiple technology vendors, your managed IT services partner can help you onboard technology capabilities and leadership quickly and manage those capabilities through a single, accountable relationship.

Your Managed IT Services Partnership: How Indusflow Systems Can Help
Indusflow Systems has a team of IT and business professionals and leaders that helps savvy business owners to quickly onboard technology capabilities and leadership. If you decide to partner with us, some of the key results we will deliver to you include:
Build, optimize and manage a fast, safe and secure computer network through which your staff can perform their work seamlessly in the office or at home
Implement, train and manage cloud software such as Office 365 to collaborate better, manage documents, automate business activity and  build your organizational knowledge base
Protect your data and your customers' data protected from loss and theft
Ensure your can business recover quickly in case your computer network or server experiences a catastrophic failure due to hardware malfunction, fire, flood or theft
Help advise and onboard the right software and platforms to enhance your marketing, sales and customer experience
Provide you access to a highly responsive service team that will respond to employee requests 24/7
Assigns you an empathetic technology leader who will take the time to understand your organizational goals and help create a technology roadmap that supports, amplifies and accelerates your vison
Indusflow Systems has been serving small and mid-sized professional services firms in various industries such as legal, human resources, healthcare, finance and insurance for over 20 years.
For a free consult to discuss your business and technology strategy, please reach out.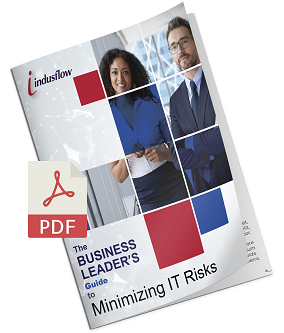 Free Resource
The Business Leader's Guide to
Minimizing IT Risks
This definitive guide breaks down the essential elements of a well-managed IT environment. You will be equipped with the right questions to ask your IT provider. 
Let's talk about your IT needs.

Indusflow Systems is a Toronto-based managed IT services company that provides a comprehensive portfolio of technology services to small and mid-sized organizations. If your organization needs IT leadership and a dependable partner that focuses on customer service, business continuity and security, reach out to us for a no-obligation consultation.
Copyright © 2023 Indusflow Systems. All rights reserved.