Microsoft Copilot is a testament to the evolution of artificial intelligence and digital assistance. With a commitment to optimizing productivity and facilitating smoother operations, Copilot is designed to integrate thoughtfully with Windows and your cherished Microsoft 365 apps.
Seeing Microsoft Copilot in Action
We believe that the best way to appreciate the potential of Microsoft Copilot is to see it in context. Here are some short demos (about 1 minute each) of Copilot's capabilities across Microsoft 365 applications and Windows 11:
Microsoft 365 Copilot Overview
Word
Excel
PowerPoint
Outlook
Teams
Windows 11 Copilot
Benefits of Embracing Microsoft Copilot
Guided Navigation: Enhance your understanding of apps with intuitive, real-time assistance.
Streamlined Efficiency: Minimize time spent on routine tasks with AI-driven insights.
Collaborative Excellence: Foster a collaborative environment where team synchronization is effortless.
Microsoft Copilot Pricing and Timelines
Microsoft Copilot for Windows 11: Available now and included with latest Windows 11 upgrade.
Microsoft Copilot for Microsoft 365: $30 USD/month per user, available November 2023.
Microsoft Copilot Enhances Productivity
While there's a cost associated with Microsoft Copilot, consider the return on this investment:
Time Savings: The average user can save hours per week with the streamlined processes and assistance Copilot offers. Over a year, that's a substantial return in terms of person-hours.
Enhanced Productivity: More than just time, the quality of work improves. Features within Copilot minimize errors, leading to more accurate and reliable outputs. This potentially means fewer revisions and reduced operational costs.
Team Synergy: Copilot's collaborative tools mean less time spent on alignment and more on execution. This can lead to faster project turnarounds and a more harmonized team environment.
Continuous Learning: Copilot's intuitive guidance ensures that your team is always using Office 365 applications to their fullest potential, reducing the need for frequent training sessions.
A Step Toward the Future
Adopting tools like Microsoft Copilot represents a stride toward modernized operations that embrace artificial intelligence.
Ask us for assistance with helping you upgrade your Microsoft 365 software to take advantage of Microsoft Copilot.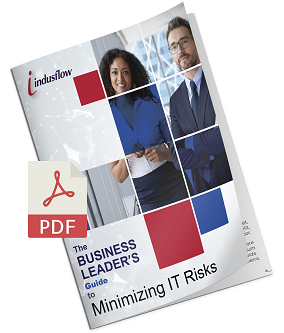 Free Resource
The Business Leader's Guide to
Minimizing IT Risks
This definitive guide breaks down the essential elements of a well-managed IT environment. You will be equipped with the right questions to ask your IT provider. 

Indusflow Systems is a Toronto-based managed IT services company that provides a comprehensive portfolio of technology services to small and mid-sized organizations. If your organization needs IT leadership and a dependable partner that focuses on customer service, business continuity and security, reach out to us for a no-obligation consultation.
Copyright © 2023 Indusflow Systems. All rights reserved.