Microsoft 365 adoption worldwide has continued to grow at a steady pace of 20-30% per year for at least the last 5 years. When getting onto the 365 platform, you need to decide which subscription levels are appropriate for which users. There are many subscription options that are suitable for small-to-midsized businesses and there are subtle differences between them. Here are some common subscription options that are chosen (prices are shown in Canadian dollars at the time of writing this article):
Exchange Online Plan 1. At $5.10/user/month, this plan is often chosen by organizations that just want email hosting on the 365 platform. The 50 GB mailbox sizes are suitable for the typical business user.
Exchange Online Plan 2. At $10.20/user/month, people with larger mailbox size (up to 100 GB) needs often choose this plan.
Business Basic. At $7.70/user/month, Business Basic adds Teams, SharePoint and OneDrive which allows you to move beyond email only and start to collaborate with file sharing and document collaboration online. This subscription level allows users to access/edit documents online through a web browser using slightly watered-down web versions of Word and Excel. Or they may use Office Apps they've already purchased.
Business Standard. At $16/user/month, Business Standard gives you the actual Office Apps to install on your devices for full-blown application functionality that's missing in Business Basic.
There are also a number of Enterprise plans to choose from. These are geared toward higher security and compliance environments.
Business Premium. At $28.80/user/month it's a jump from Business Standard. However, Business Premium combines some very powerful features that make it the best bang for your buck when it comes to balancing ease of access to applications and data with security for SMBs.
Business Premium – The Way to Go
What makes Business Premium the golden child of 365 subscriptions for SMBs? Here are some of the highlights:
Conditional Access Policies. One of the benefits of moving to the cloud is ease of access to your data from anywhere. However, this is counterbalanced by security concerns about access to your data from unknown/untrusted devices. Using Conditional Access Policies, you really enhance security when accessing your corporate applications & data. Examples include:

require multi-factor authentication in addition to a username/password
create regional/country restrictions on access
with Microsoft Intune included, you can specify which devices are allowed to access your data. If that's too restrictive for you then at least specify the characteristics of the devices you want to allow access from (such as operating system version, presence of antivirus, requirement to use a security code, etc.)
Once you define strong conditional access policies, you could consider taking things to the next level and have your other cloud applications authenticate from your 365/Azure Active Directory, thereby creating a single-sign-on across all of your applications.
Self-service password resets. Allow users to reset their own passwords when they forget instead of involving your IT partner.
Longer Audit Log retention. With Business Premium audit and sign-on logs are retained for 30 days versus 7 days in Business Standard.
Office apps on Remote Desktop servers. Remote Desktop Server (RDS) allows you to create a shared server for access to non-cloud-friendly applications. Many organizations use special line-of-business applications related to finance or CRM that are not cloud-enabled. If your Office Apps are licensed through 365, you may be surprised to find out Business Standard Office Apps licenses are not compatible with RDS environments. In this case, your organization would need to purchase separate licensing for Office Apps to be used in the RDS environment. The Office Apps with Business Premium, however, are compatible with RDS environments.
Azure Virtual Desktop. Also included in your Business Premium license is access to an Azure Virtual Desktop environment. You can use this to replace your RDS solution (for smaller environments) allowing you to move not only files and mailboxes but even your legacy apps to the cloud, without spending additional money on hosting RDS servers in Azure.
Additional enhanced security features including enhanced protection against email threats including phishing, malware and spam as well as enterprise-grade endpoint security software for all of your computing devices.
It seems that, over the next little while, Microsoft will be adding even more value to the Business Premium license as they make a push to encourage companies to move over to this subscription from some of the other small business packages.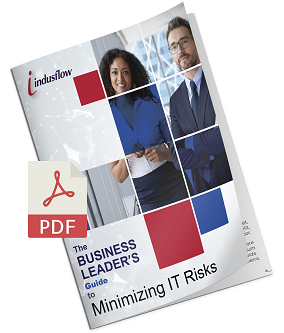 Free Resource
The Business Leader's Guide to
Minimizing IT Risks
This definitive guide breaks down the essential elements of a well-managed IT environment. You will be equipped with the right questions to ask your IT provider. 

Indusflow Systems is a Toronto-based managed IT services company that provides a comprehensive portfolio of technology services to small and mid-sized organizations. If your organization needs IT leadership and a dependable partner that focuses on customer service, business continuity and security, reach out to us for a no-obligation consultation.
Copyright © 2023 Indusflow Systems. All rights reserved.